Well, summer has started and I am already neck deep in candidacy exam reading. This image illustrates how that feels (I am the sorceress, the dragon represents my exams/reading list :P.)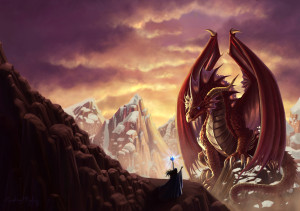 I put this image on the cover of my readings binder… it is inspiring! Though I am tiny, I have powers too. See how the dragon is being subdued by the sorceress' magic? Yes. I also made a spreadsheet. I've got a plan, I've got this. I hope.
I also have much other work that needs to get done asap (including revising a potential article, submitting for a conference, and two reviews), an institute on narrative theory to attend in June, and a 'Folklore and Literature' Think Tank to attend in July. Eep!
A few other things:
x. Only Lovers Left Alive, Jim Jarmusch's vampire film, is insanely good. The soundtrack is too, I'm actually a bit obsessed with it.
x. Speaking of vampires, here's some scientific evidence that folklore always knows what's up – Vampire Therapy Could Reverse Aging 
x. For more Gothic fantastic, the Guardian posted this hilarity – How to Tell You're Reading a Gothic Novel (in Pictures!)
x. And this is just lovely – Gorgeous Illustrations of 'Untranslatable' Words from Different Languages by Anjana Iyer. I'm always fascinated by these kinds of words and this project is very cool.
Also, Sara has tagged me to do a post on my writing process and I promise that that is coming shortly! I hope you're all enjoying the spring flowers as much as I am :).