Ah, Ohio. Polar vortexes were not part of the deal when I signed up to come here! The ground is currently covered in snow and the temperatures are the coldest I've ever been exposed to – this means, however, that it's a wonderful day to write and read and share some thoughts and news here :).
x. First, I am so proud to announce that my poem "Rep/ercussions (Carmina)" appears in the latest issue of Stone Telling entitled "Body."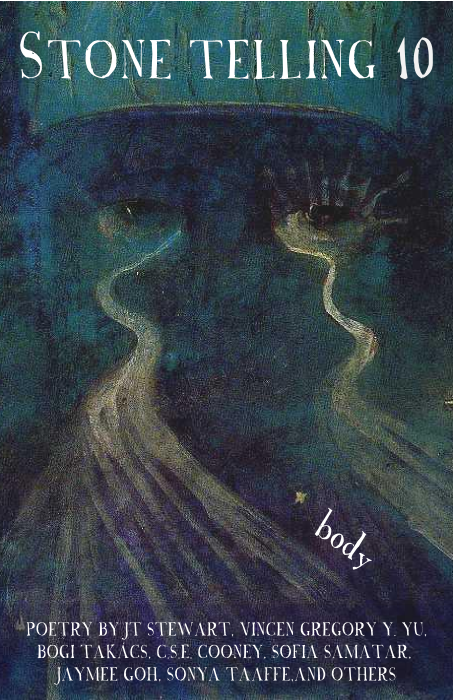 This double issue features some incredible work and I'm so honored to be a part of it. This poem in particular is one of the most personal, difficult poems I've ever written and speaks to an aspect of my life that I don't often talk about. I suppose in some ways this is a sort of 'coming out' for me as a person with a serious mental illness but it felt important to me to try to illustrate obsessive compulsive disorder in a way that speaks to my own experience of it. The term "obsessive compulsive" is used very casually far too often and I hope this poem shows a different, more complex side of it than what is normally considered. Please check out and support this beautiful and important magazine and stay tuned for their new blog with more notes on this piece from me!
x. On a more spooky note, my flash fiction piece "The Second Mrs. Chapman," has been published in Firbolg Publishing's new anthology The Rogues Gallery: The Illustrated Police News. You can pick up the Kindle version of the anthology on Amazon.com for only $1.99 so check it out and be prepared for a collection of seriously weird, delightful stories! Mine is very steeped in fairy lore (of course!)
x. The amazing Ada Hoffmann, a writer whose work I always, always adore, was kind enough to list my poem "Loveless (I Am the Snow Queen)" as one of her favorite poems from last year. This made me incredibly giddy with joy :).
x. I recently stumbled upon this really cool online project called Subverting Laughter. It is an online "re-imagining" of George MacDonald's Victorian Fairy Tale The Light Princess "through an international collaboration in visual art and reflective blogging among MacDonald researchers from Canada, England, Germany, Italy, Scotland, and the U.S.A." They aim to use "a mixture of media to inspire new discussions of the tale in an online space, allowing a wide range of audiences to engage with MacDonald's Victorian text. Each digital storytelling post responds to a chapter of The Light Princess through an illustration, a link to and a recording of the original text, and then a reflection on the chapter." To me, this is exactly the kind of work that people should be doing with all kinds of texts – I love the combination of the digital and the fairy tale and this is such a cool way to do it. I hope this inspires more people to try projects like this (myself included!) and I look forward to following their work!
Thanks for reading and I hope you all have a beautiful day!