x. I have to start with this "On the Fastrack" comic because it's so great :).

x. Beyond the Pillars: An Anthology of Pagan Fantasy has just been released from Bibliotheca Alexandrina Press and features a poem of mine previously published in Eternal Haunted Summer called "Diana Remembers Actaeon" – it looks fantastic and I can't wait to read it!
x. The Huntington Library in California has a fantastic exhibition going on right now called "Illuminated Palaces: Extra-Illustrated Books from the Huntington Library." It features all kinds of books that have been "grangerized" or "turned […] into extraordinary "illuminated palaces" — repositories for original art, prints and engravings, maps, autograph letters, and the excised pages of other, more famous books" (quotation from the webpage!)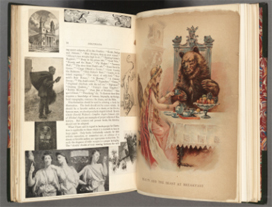 I personally *love* this practice and think it's fascinating. Check out the book in the picture above – it has a "Beauty and the Beast" illustration! I have a very small collection of these book/scrapbooks that I've gotten from various places (one my Dad found in a collection of stamps he purchased and I bought a fairy tale themed one off of eBay a while ago) and I hope one day to be able to scan them and put them online. I wish so much I could see this exhibition but luckily there are lots of cool things about it to explore online!
x. As you may have noticed, the blog has a new/old look! It's similar to the one I had a while ago but with much less complicated (and less likely to get screwed up) code. I felt like it was time for a change and I like it! A bit more gothic and mystical and swirly (which are all always good things.)
I was so productive yesterday, it was amazing! I hope I can replicate that energy today… there are still, of course, about a million things to do. However – my room is now crazy clean, everything is washed – clothes, towels, and sheets, everything is filed, AND I got a bunch of school reading done. Gold stars all around. Here's to today being even better!