Hello all! I have two new publications to announce :).
The first is that my poem, "Alice Underground," has been published by Niteblade! It was also chosen as the inspiration for both the cover and the title of the issue, which is just… amazing. So so cool. The cover is so good too, so much delight!!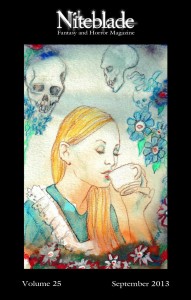 The second bit of news is that another of my poems, "Speech of the Witch of the End," has been published by Ideomancer!
I am so honored that both of these pieces found such excellent homes. They are both a little bit of a departure for me in various ways and I'm excited at how my poetry seems to be developing. Please check out both issues and support these fantastic magazines if you can!