Hi all! I wanted to take a moment and share a new Kickstarter campaign that's very close to my heart – Mythic Delirium: A Magazine of Fiction and Poetry
If you know Mythic Delirium in its previous incarnation as a print speculative poetry 'zine you know that it's one of the most amazing places for speculative work out there. I am so so excited that Mike Allen is expanding out to fiction and creating a new online presence and I am especially excited to mention that one of my poems, "WereMoonMother," will be featured in the second new online issue!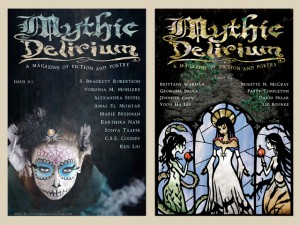 Having a poem accepted by Mythic Delirium has been one of the highlights of my writing career so far and I can't wait to see these new issues. The new version of MD is going to completely rock the speculative fiction world and deserves your support! :).