Hello! I apologize for not really being around, PhD studies have taken over my life for the present, but I wanted to use this brief Thanksgiving break to make a quick hello post at the very least :). It looks like things may be sorting themselves out into a more manageable routine next semester, so I am hopeful that I will get a little more free time to write creatively, blog, read non-school related things, etc. in the future. Coming to Ohio has been a big adjustment but it's been a worthwhile and exciting time as well!
A few notes –
* First – reunited and it feels so good…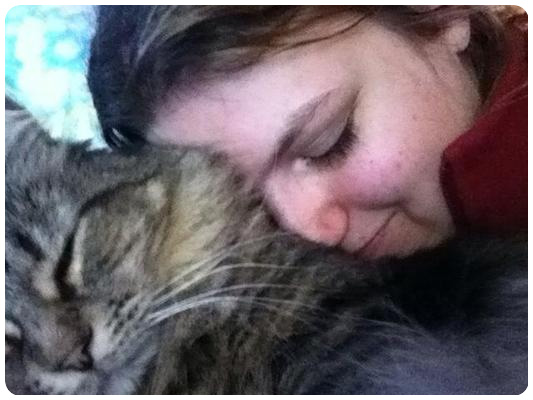 :D! It's really wonderful to be home for a bit. My birthday was on Monday and I got to celebrate with my family yesterday :).
* I meant to post more about my amazing time at the After Grimm conference but, sadly, I just haven't had the spare time to do so. I met several lovely people, including more than a few inspirations of mine, and it was completely wonderful in all ways. One of the people I met was Janet Daniels who runs the FairyTaleTastic blog – check out her post about the conference for a few more details too! While we were there I was also lucky enough to get to see two incredible exhibitions, the Writing Britain exhibition at the British Library and the Pre-Raphaelites: Victorian Avant-Garde exhibition at the Tate Britain, buy a fabulous Gothic coat in Camden Town, and visit a few of my friend Sara's favorite haunts in Oxford.
* I also attended the American Folklore Society's Annual Meeting in October in New Orleans (which is now absolutely among my favorite cities in the world!)… I was going to write about that as well but, again, did not get the chance :(. Just know that I had a great panel with several other fairy tale scholars and it was a really fun time! I went on a witches and vampires and voodoo walking tour, saw a few of the gorgeous original paintings of Kelly Louise Judd in person for the first time in a random awesome gallery we just happened to wander into, ate many beignets, attended the book launch of Transgressive Tales: Queering the Grimms in which my former professor at GMU, Margaret Yocom, and my friend Jeana Jorgensen each have a fantastic essay, spoke with a bunch of prospective OSU students and hopefully made a good impression, and saw a bunch of excellent papers.
* I've had a paper accepted for presentation at The International Conference for the Fantastic in the Arts this coming March – huzzah! I attended this conference for the first time last year and it's awesome, just full of people doing exactly the kind of work that I love. I'm really happy I get to go again this year!
* I set up my classes for the Spring semester and am really excited about them! I'll be taking a Children's/YA Lit. class on the "Roots of Fantasy" (aka the folklore, etc. that frequently inspires fantasy literature!) which is just so perfectly up my alley I'm kind of shocked it's real, an independent study reading course on the 19th Century British Gothic (awesome texts and great dissertation prep), and a teaching apprenticeship class where I shadow a senior professor teaching an introduction to folklore class, a prerequisite before I can teach my own introductory folklore classes. I'm completely psyched about all of these things :P.
* I'm honored to note that the lovely magazine Niteblade nominated the poem that Sara Cleto (the same Sara as above) and I wrote together, "The Second Law of Thermodynamics," for the Pushcart Prize. It is so kind of them to acknowledge our poem in this special way – thank you!
* Have you seen the Disney princess inspired windows at Herrods? The "Sleeping Beauty" one is absolutely gorgeous as far as I'm concerned, roses and cobwebs = A+!
* Speaking of "Sleeping Beauty," the wonderful Bryony recently made me aware of this production of Tchaikovsky's "Sleeping Beauty" ballet – a gothic version!! It's like my MA thesis in ballet form, crazy. There is a slim chance I may be in the UK during its run next year so please keep your fingers crossed that I can make it happen!
Happy Thanksgiving to those of you in the US and there will hopefully be more posts from me soon!