I feel compelled to post my review of this book here, rather than just on Goodreads, because I can't stop thinking about it.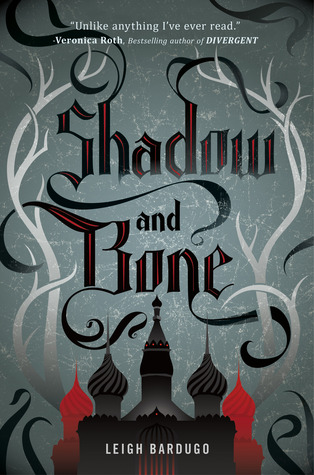 I read Bardugo's short story set in the same world as Shadow and Bone on tor.com a few days ago and was intrigued. She is an excellent writer and her world seemed to be incredibly detailed and well formed. I loved that she wrote a folktale companion piece for her novel, and such a good one at that, which made me interested enough to pick up Shadow and Bone for my Kindle. This was obviously Tor's intention but I'm so glad that I did!
This is an excellent YA novel. I was completely fascinated by this world and its characters. Everyone in this book is grey… there is no black and white at all. Everything is complex and fully imagined. I love the setting, I love the magical system, and the writing (like the short story) is fantastic. I believed in these characters – they seemed like real young adults to me in so many ways. The plot kept me guessing and I found myself actually giddy with the expertly done twists that Bardugo executed.
All that said, I feel that I must address that amongst the many 5 and 4 star reviews for this book are a few 1 or 2 star reviews that are upset with what they see as cultural appropriation. Yes, the world of the novel is absolutely modeled after Russia but, as someone who doesn't know a lot about Russia at all, I found it far more fascinating than nefarious. Like the thousands of authors who have drawn from, say, Celtic mythology and culture to create their own fantasy worlds, Bardugo uses bits and pieces of Russia to make an entirely new world. I confess that I did not really feel uncomfortable with what she did. Like some of the best authors who use folklore in their work, she changed it into something completely different. I don't see that as "failing to research" the culture but rather as simply a way of retelling similar to what so many others do. Ravka is very specifically *not* Russia, despite the sources the author drew from. The other two main cultures of the book, one fairly clearly modeled after Mongolia, were a bit more problematic but I got the impression that both of them would be explored more deeply in the future books of the trilogy.
The discomfort some people have felt has, however, made me think a lot about folklore in creative writing and the concept of cultural appropriation. I love folklore from all over the world and enjoy incorporating it into my creative writing in a variety of different ways. I have always been a champion of using folklore creatively – it's what I write, it's what I study. I have never felt like this was misusing the culture of another group of people but I also have never thought of it that way. Cobbling together bits of the world and reshaping them seems to be a cornerstone of what fantastic literature is all about and I don't feel that anyone should be limited creatively to the culture they happened to be born in, particularly if what is used is used with respect (this said, I don't actually know what Leigh Bardugo's ancestry is, I have seen several people comment that she is not Russian but she may well be.) I'm also uncomfortable with the fact that this doesn't seem to even come up when talking about the numerous fantasy novels that draw from Celtic culture, as I mentioned above. Are the hundreds of YA fairy novels that are structured around Celtic stories somehow misusing that culture? I have never seen anyone say that. Because Bardugo's book is based around a culture that is less familiar to American audiences, however, it seems to call more attention to itself. I don't really have any answers for this but I'm interested to hear how others feel.
Links:
* A great review on tor.com that I agree with – Balancing Heroism and Great Villains: Shadow and Bone by Kelsey Ann Barrett
* The short story that got me to read the novel – "The Witch of Duva: A Ravkan Folk Tale" by Leigh Bardugo
* The review of the short story that lead me to read it – Calico Reaction's Review
* Leigh Bardugo's Blog – Includes her "blog tour" with a lot of information about the book and the rest of the trilogy.
* An interesting interview with the author, in which she states quite emphatically that Ravka is not Russia but rather a fantasy world that draws on Russian cultural touchstones and shares some other interesting thoughts as well – Author Interview
(Follow Up Post #1 + Follow Up Post #2, in which I learn much.)