There is nothing quite like seeing this –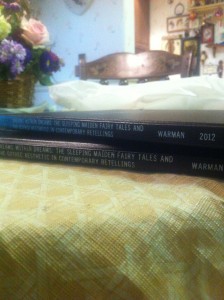 WARMAN on the side of a book? Yes, I like the looks of that! Everything has officially wrapped up and I graduated from my MA program yesterday. Very exciting but, of course, also a bit bittersweet. There is nothing like a graduation to signify a true end. I was awarded *two* department awards, one for best thesis and one for highest GPA, both of which I'm still kind of flabbergasted about! The ceremony was lovely and I was so happy to be there with beloved family and friends.
Now it's time to get ready for the next step – on to Ohio! :).
I've done a bit of editing on the site: a new picture (featuring the enormous and awesome rose earrings my parents gave me for graduation), some new information, and an attempt to get these entries to cross-post on Facebook. I hope to get a lot more up soon!