Well, it seems I've fallen behind again, and though I really do have quite good excuses, I am quite sorry to neglect my little space on the Internet! A few catch up items…
* The biggest thing to mention is that Sara Cleto and I had our first long course for The Carterhaugh School of Folklore and the Fantastic, "The Fairy Tale," and it went so, so well. So many people have said just phenomenally wonderful things, and I am so blown away by our students… I honestly can't believe some of the amazing things that have come out of the course. For example, the incredibly talented Jenny Davies-Reazor crafted these gorgeous block prints for several of the fairy tales we discussed – you can see the pints and read about her process in this fantastic blog post she wrote. We'll be adding more projects to our Final Project Showcase on the website soon, but do check out what's up already… it really is incredible. We are SO excited to keep going with this project and hopefully expand it as well – we already have summer and fall courses coming up, so please do sign up for our newsletter and keep up with what's going on over there!
I'm also thrilled to say that the amazing, endlessly inspiring Terri Windling has linked to both Carterhaugh AND Through the Twisted Woods on her "Mythic Resources" page for her redesigned website. The honor of her even knowing these things exist, let alone liking them enough to link to them, fills my heart with unspeakable joy.
* In academic news, work on the dissertation continues and I've attended a few conferences since I last posted: AFS in Miami, INCS in Philadelphia (where Sara and I cavorted with Shveta Thakrar!), and ICFA in Orlando (which my friend and colleague Jeana Jorgensen has a great write up about.) All were wonderful and helpful and inspiring as usual, but ICFA was particularly fantastic (ha) this year, as, due to the hard work of the Fairy Tales and Folk Narratives group (particularly Christy Williams), we now officially have a Fairy Tales and Folk Narratives division. As Jeana discusses in her post, this is huge break for our field and I am so honored to have been a small part of it as a board member for the group that worked toward the move. It's an exciting time to be a fairy-tale scholar!
* In creative writing news, my story "C is for Catechism" was published in Rhonda Parrish's D is for Dinosaur anthology, which seems to be doing quite well! A few reviews have called out my story in particular for praise, which of course makes me feel like dancing :). I also contributed a poem to Sihaya and Company's Spring Box on the theme of "Persephone Rising" that has also been received really well – I designed the background for the poem and printed it on vellum paper, these sheets were then put in art cards by Vasilion Photography.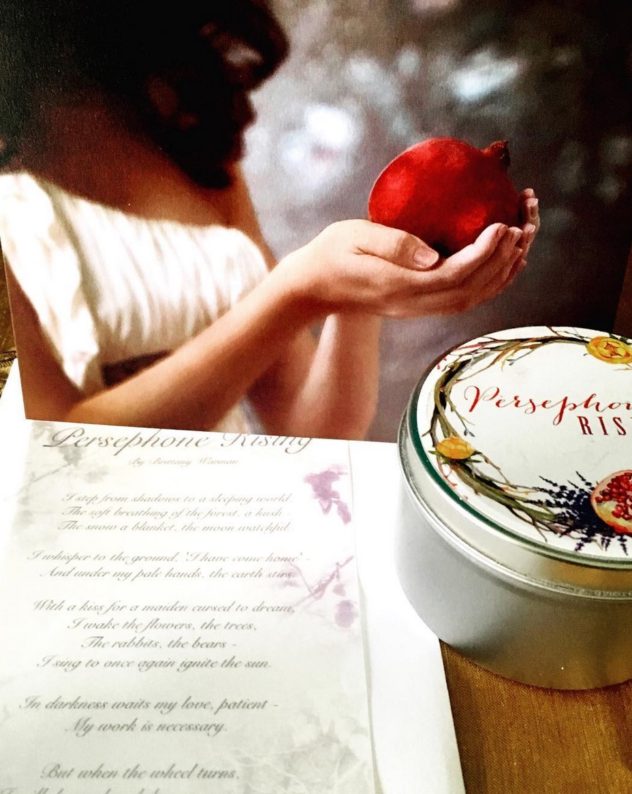 (Photograph of some of the Spring Box items, including my poem, by the fabulous jewelry designer Meenoo Mishra!)
The supremely talented Rachel Oakes created this perfect drawing in response to the poem too, and I really don't know how to express how honored I am by it <3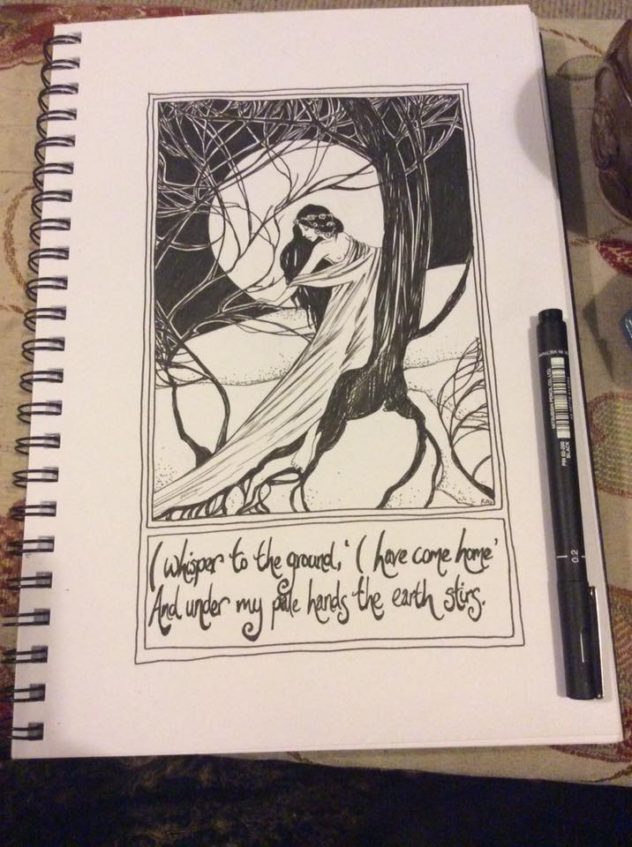 She has also been kind enough to allow me to purchase the original piece… I can't wait to hang it up when it arrives :).
* And lastly, a few things I've found around the Internet that have inspired and excited me:
More soon! Thanks for reading!